Course details
【Anniversary ★ Farewell Party】 ___ ___ 0 ___ ___ ___ 0 ___ ___ 0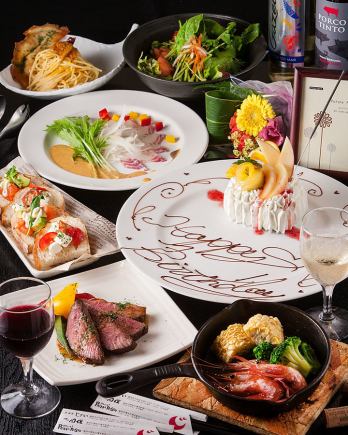 By using a coupon3800 yen
All-you-can-drink available

All you can drink beer draft beer !! All-you-can-drink all-you-can-drink 2 kinds of shochu, plum wine, cocktail etc. 1500 yen ~
Reservation deadline

Until 23 o'clock the day before the store visit date
Available days for reservation

Monday - Sunday - Public holidays - Holidays
Flexible surprise course 【8 items of commitment】 + 【All you can drink】 + 【Cake】 + 【Bouquet】 + 【Commemorative photo】 + 【Surprise】 Super luxury service course ☆ Put the picture in the photo frame on the spot ♪ gift ♪ 2 people ~ OK ☆
Course menu
☆ Anniversary's Anniversary Surprise Course ☆
◆ Ice creaks cream cheese
◆ salmon marinade
◆ raw ham and fruit
◆ salmon carpaccio
◆ Roast chicken salad
◆ Hokkaido Sail Stand Gratin
◆ Charcoal grilled beef steak
Seafood Mentai Cream pasta
◆ Hole cake with message Photo flower bouquet
※ All you can drink is last order 30 minutes ago.
--------------------------------------------------
☆ We will respond to price consultation and cake bring-in.
☆ Feel free to urgently change allergy, likes and dislikes, sparkling wine and dishes ♪
☆ We will also respond to cake messages and music!
☆ moist moisturizing surprise without surprise direction is OK !!
☆ BGM designation, bringing in, please tell the gift of the present by the day before.
--------------------------------------------------
<December / March, cancellation fee of April>
Cancellation of the reservation itself: From 3 days prior to the reservation date, the cuisine (amount which you can withdraw all you can drink 1500 yen) will be raised.
Changing the number of people: Only dishes on the day will be cooked.
※ Please make the determination of the number of people by the day before the reservation date.
<Cancellation fee for other months above>
Only the reduction of the number of people of the day, we receive the price of the dish.
All-you-can-drink menu
· Draft beer beer
· Clear asahi barrel student (+ 300 yen for super dry as well as all you can drink ☆)
·Plum wine
· Clear plum wine · green tea plum wine · brown sugar plum wine · red purple sauce plum wine · honey plum wine
· Shochu
· Black Kirishima (potato) Hakata no Hana (wheat) Shiratake mushiro (rice) + 300 yen for Mikake and Mitake and drinks as well ☆
·Sake
· Ya's poetry hot spring, cold water, cold, cool.You can enjoy it at your favorite temperature !!
·Highball
· Black Nikka Highball
·Cocktail
· Mango Orange · Cassis Orange · Gin Tonic · Moscow Commander · Fuzzy Neeble · Campari Soda · Kalua Milk etc. · · About 20 species!
·wine
· Red · white (glass wine)
·Non-alcoholic
· [Soft] Orange · Grapefruit · Pine · Cola, Ginger ale · Oolong tea etc. 【Non alcohol】 16th night · Lime tonic etc.
Coupons that can be used with this course
2018/12/28 update