Course details
Freedomfully enjoyed course 【Nabe pot with Nagahama fresh fish】 150 mins with drinks with unlimited choice 7 items 5,000 yen ☆ 4000 yen with HP coupon use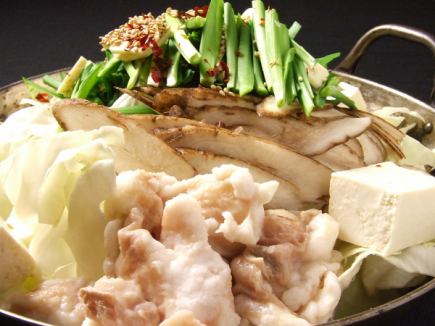 By using a coupon4000 yen
Course fee is tax included.
All-you-can-drink available

All you can drink beer draft beer !! All-you-can-drink all-you-can-drink 2 kinds of shochu, plum wine, cocktail etc. 1500 yen ~
Reservation deadline

Until 23 o'clock the day before the store visit date
Available days for reservation

Monday - Sunday - Public holidays - Holidays
Bonenkai reservation reception in progress! Hakata specialty sesame mackerel is also attached and it is very popular even for hospitality to people outside the prefecture! Also loved by local people, the taste not to be defeated by specialty shops!
Course menu
· Broiled chicken plum meat sauce
· Assorted 5 kinds of fresh fish
· Caesar salad with bacon and red prawns
· Squid and tofu shumai
· Wakabaru with white soy sauce fragrant with Japanese soup stock
· Episode Chan
※ All-you-can-drink time is 2.5h.
※ All you can drink is last order 30 minutes ago.
☆ We will prepare surprises! ☆
· Message plate (from 600 yen)
· Hall cake for dessert (from 1000 yen)
· Flower bouquet (600 yen)
· Message balloon (chargeable consultation)
-----------------------
<Cancellation fee: December, 3, April>
Cancellation of the reservation itself: From 3 days prior to the reservation date, the cuisine (amount which you can withdraw all you can drink 1500 yen) will be raised.
Changing the number of people: Only dishes on the day will be cooked.
※ Please make the determination of the number of people by the day before the reservation date.
<Cancellation fee for other months above>
Only the reduction of the number of people of the day, we receive the price of the dish.
All-you-can-drink menu
· Draft beer beer
· Clear asahi barrel student (+ 300 yen for super dry as well as all you can drink ☆)
·Plum wine
· Clear plum wine · green tea plum wine · brown sugar plum wine · red purple sauce plum wine · honey plum wine
· Shochu
· Black Kirishima (potato) Hakata no Hana (wheat) Shiratake mushiro (rice) + 300 yen for Mikake and Mitake and drinks as well ☆
·Sake
· Ya's poetry hot spring, cold water, cold, cool.You can enjoy it at your favorite temperature !!
·Highball
· Black Nikka Highball
·Cocktail
· Mango Orange · Cassis Orange · Gin Tonic · Moscow Commander · Fuzzy Neeble · Campari Soda · Kalua Milk etc. · · About 20 species!
·wine
· Red · white (glass wine)
·Non-alcoholic
· [Soft] Orange · Grapefruit · Pine · Cola, Ginger ale · Oolong tea etc. 【Non alcohol】 16th night · Lime tonic etc.
Coupons that can be used with this course
2018/12/28 update